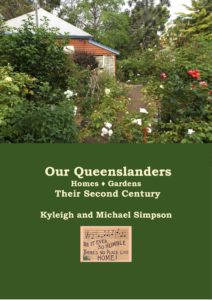 "Our Queenslanders, houses ♦gardens: Their Second century"
Kyleigh and Dr Michael Simpson, 2019 (SOLD OUT)
This book illustrates the case for recognition and protection of our architectural and horticultural heritage. In fact, "The Queenslander" house may be Australias best known architectural style on the world stage.  As well as defining aspects of structural detail, our book describes the experience of living in a "Queenlander' and illustrates fine urban and rural examples of these houses and gardens.  Our book touches on Architecture, History, Horticulture and Queensland identity with colourful images on most pages.
In the 21st century the pressure to subdivide and repurpose urban land threatens to remove or permanently alter the "Queenslander" which once defined the streetscape and the identity of our towns and cities. Modern tastes and expectations of housing lead to alteration of the "Queenslander" structure which threaten this vernacular housing style often making it unrecognisable. "Our Queenslanders, homes♦gardens: Their second Century", with chapters defining the structural features which define a "Queenslander" goes on to discuss the use of timber or masonry and takes some time over structures such stumps, stairs verandas and details concerning corrugated iron and structural ornamentation. Chapters concerning "Queenslander" interiors discuss everything from paint and pressed metal to electrical fittings and furniture.  The "Queenslander" garden is treated in similar detail with chapters on botanizing and collecting, through structural features such as fences, gates and bush houses to the planting palette.
In the latter part of the book urban and rural examples of "Queenslander" houses and gardens are colourfully illustrated along with note pages on familiar Queensland plants such Frangipani and Agagpanthus.
 ISBN-13: 978-0-9871375-5-5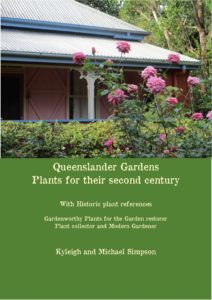 "Queenslander Gardens, Plants for their Second Century: with Historical References"
Kyleigh and Dr Michel Simpson, 2019
This book is based on a detailed inventory of garden worthy plants for "Queenslander" gardens and where available historic references of their use in gardens in their second century. It is essentially a guide for those interested in garden restoration and garden history in Queensland. With such a large topic the authors hope that this book becomes a notebook to receive personal notes and observations. Interesting photographs and observations are illustrated. ISBN-13: 978-0-9871375-6-2