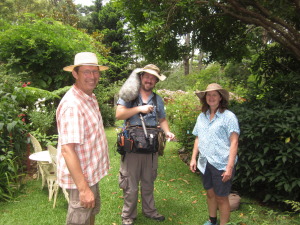 ABC Gardening Australia, filming at "The Shambles" November 2014, Kyleigh , Chris and Presenter Jerry Coleby-Williams
Open gardens, Visting Groups, Tours and Book Launches.
"The Shambles", like most gardens been a place of relaxation and enjoyment for friends and family visitors. However, it has been shared much more widely since 1992. Our oldest daughters wedding photos and many other important events have been photographed in the garden. In our time there have been 21 Christmas parties, many birthdays, Bar-b-ques, campfires and new  year celebrations. There have been numerous 'working bees', cleanups and construction events involving friends and family over the years which have required a suitable celebration at the end of a hard days work.                                                                                                                     "The Shambles" heritage will record that our garden paths have been explored by thousands of visitors over the last dozen years and the record of this is part of our familys and our gardens history. Kyleigh has catered for so many events and yet again helpful family & friends have willingly been involved and local organizations assisted. We have attempted to list some of these events below.
Open Garden weekend September 2001, which benefitted both the Blackall Range Care Group and the Montville State School Parents and Citizens. This was a joint opening with our neighbours Janice and David Milne, at 87 Western Avenue and was quite successful.           1st Prize, "Gardens in the Sun", Home Garden over 1000m', in 2003.
Our first and only garden competition entry was successful and a pleasant surprise. This competition was run across both Caloundra and Maroochy shires. The garden had been visited and judged while we were away on holidays.
Book Launch "The Shambles, the Story of a Montville Garden" 2007. About 150 visitors enjoyed this event in the garden with music and catering of course.
Book Launch "Over the Fence and Overlooked, Heritage Plants in Australian Gardening Heritage" 2009, saw about 200 people visit the garden. Not only did many take home a copy of our book but also of the beautiful DVD "A Garden in the Rain, 'The Shambles'" filmed and produced by Robert Simpson.
Christmas Party, Australian Gardening History Society 2009. A social garden visit followed by lunch a local French restaurant.
The Open garden here 9th and 10th June 2010 for the Maleny "Arts and Gardens" festival had 1800 visitors. Helping on our gate were the Montville Rural Fire Brigade who benefitted from the event along with the Blackall range care Group and other charities.
Enjoyed a visit from about 30 members the International Tropical Foliage and Garden club, 26/6/2010, who held a meeting in the garden.
5th October 2010: National Conference Tour by large group from Heritage Roses in Australia enjoyed lunch and our garden roses on a lovely fine day.
9th and 10th October 2010. Open garden under Australian Open garden Scheme with a fantastic plant stall by the Hunchy Community Association and a large number of Heritage Roses beautifully displayed by Kate Stock. There were about 300 visitors in spite of torrential rain over that weekend.
7th April 2011. Book launch of "Australian Gardens Making History" with Australian Garden History Society, Queensland Branch members at the Noosa Botanical gardens.
17th and 18th September 2011, Open Garden with Open Gardens Australia in beautiful spring weather. Once again a plant and Heritage roses stall by the Hunchy Community Association. Over 400 visitors.
We were Conference speakers at the Australian Garden History National Conference, Maryborough on 19th August 2011. We presented our paper on Garden Plant inventories and Garden Conservation, which was later published in the "Queensland review"
Bus touring group Cross Country tours, 30 visitors 24/1/2012
Open Gardens Australia : Easter saturday, sunday, monday 2012, Beautiful weather and about 1050 paying visitors plus 100 or so children. A highly successful event which as always featured Plant stalls, Heritage Roses stalls by the Hunchy community Association.
Bus touring groups on the Saturday 12 May 2012 from Bellflower Garden Club, Sunday, 13th May 40 from Toowoomba . Beautiful fine weather. Plenty flowers
Bus touring group 38 visitors from Victoria Point, 24/5/2012
Bus touring group 20 Visitors from Hervey Bay , 15/8/2012          22/9/2012 About 100 guests at Garden party, Book Launch and grand re-opening of the "Plough Inn". A very enjoyable event and the book "An Open Garden, Visiting gardens by Motor Car" was well received
Talk to Roselovers Group at their meeting room in Brisbane 1/12/2012                                                                                          March 2013. Bus trip, about 30 visitors from Glasshouse Mountains Probus club in lovely fine weather.                                                                                                       Car rally group from "Blackall Range Horseless Carriage Club". Weekend rally 23/6/2013.
Bus Trip Townsville garden Club visit & lunch on 8/7/2012                                                                                                                                                                       
Talk to Roselovers group at their meetings room in Brisbane July 2013
Bus Trip group From morayfield 19/8/2013
Book Launch "A Year in my Gulag (Garden)" Kyleigh Simpson and Chris Donlen, party for over 100 people 8/2/2014
Garden Visit Fern Study Group 5/3/2014
Open Garden "Easter in the Garden & Giant Plant Stall" 19th and 20th April 2014. 700 visitors. Plants prepared by Hunchy Community Association, refreshments by Balackall Range Horseless Carriage Club
29/10/2014 Bus Trip from Toowoomba 50 visitors having morning tea
20-21/11/2014 ABC GARDENING AUSTRALIA FILMING in the garden with presenter Jerry Coleby-Williams , for a programme to be aired in 2015
6/12/2014 Club Visit, Ford 8 & 10 H.P Car Club Queenslnad at "The Shambles" for morning Tea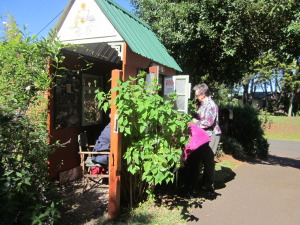 BOOK LAUNCH "A Garden Forever" by Kyleigh and Dr. Michael Simpson at "The Shambles" 2 30pm 24th January 2015 about 80 attendeees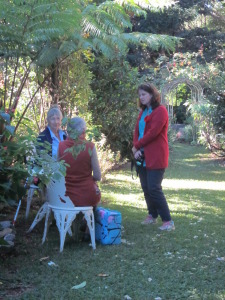 OPEN GARDEN "Centenary of ANZAC" weekend. 25th 26th April 2015 with lots and lots of people visiting in perfect weather. All proceeds to Legacy Australia 
GARDEN VISIT  23/5/2015  'The Glebe garden Club' Ipswich. 51 visitors enjoyed perfect weather and lots of flowers.
PRUNING DAY  Heritage Roses in Australia 5/7/2015
Wedding Photos, Denise and John 20th September 2015
GARDEN club VISIT 23/10/2015 Ferny Grove Garden Club. 19 vsitors. Perfect weather.
GARDEN VISIT 22/3/2016 Tewantin-Noosa Seniors 32 visitors including morning tea
GARDEN VISIT  18/6/2016  Seniors group from Chermside  24 visitors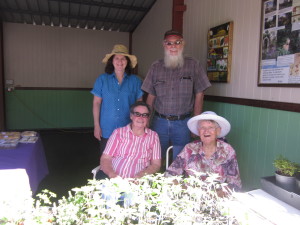 OPEN GARDEN  1/10- 2/10/ 2016 "SPRINGTIME IN MONTVILLE" ,2 gardens, "The Shambles" and "Wongawilli" in Montville.  Over 400 visitors to "The Shambles" in perfect weather all proceeds to "Cittamani Hospice Service" and refreshments moneys to "Frontier services" through Montville Uniting Church
GARDEN CLUB VISIT 26/5/2017  Buderim Garden Club . 50 visitors in perfect weather with healthy amount raised for "Frontier Services" through Montville Uniting Church. Plant and Book sales as well as produce and tea and coffee.
BUS TOURING GROUP 22/6/2017  Cross Country Tours. 40 visitors in lovely weather with funds raised for "Frontier Services" through Montville Uniting Church. Plants, DVD sales, tea and coffee.
GARDEN CLUB VISIT 26/6/2017 Green Park Garden Club (Greenbank and Park Ridge) 34 visitors, great weather. Once again funds going to the Uniting Church and "Frontier Services". Visitors very keen on buying plants, avocados and strawberries.
BUS TOURING GROUP 18/9/2017 Hervey Bay Probus Club. 40 visitors in fine weather. Prolonged hot dry weather meant usual absent although the mature garden has held up well. Bought drinking water for the 3rd time in this event this year
GROUP MEETING 22/9/2017 "Friends of Pattemore House" ("Fairview") Maleny, 10 , Exchanging material, garden plans for the restoration, maintenance of his historic property
OPEN AFTERNOON 11/11/2017 It was such a lovely surprise, after drought , that the rain had produced a magical late spring flush we opened up to share. About 30 attendees in perfect weather. Friends Kaye, Martin, Tracey & Chris stayed for dinner. Poured rain the next day.
GARDEN CLUB VISIT 29/3/2018 Albany Creek Garden Club 50 visitors on a rainy day and during a quite showery period. Extraordinary flowering from the garden and especially roses leading up to this event.  There had been a big clean up following fall of half a large Macadamia tree a few days before
BUS TOUR GROUP 10//4/2018 Tewantin -Noosa Group  22 people with morning tea. Beautiful fine day and the garden showing off with much in flower
BUS TOUR GROUP 7/9/2018 Pine Rivers U3A Group 40 people with morning tea. Beautiful day and lots of spring flowers
HERITAGE ROSES IN AUSTRALIA visit 7/4/2019 14 members glorious fine day . Garden tour after lunch on the back verandah and then on to Rowenas garden in Western Avenue
OPEN GARDEN 'EASTER IN A MONTVILLE GARDEN' 20TH 21ST APRIL (Easter sat and Sunday) Plant stall and refreshments. In spite of rainy weather over 500 visitors helped us raise $5770 for the Western Queensland Drought Appeal. Big thanks to our helpers Daryll and Heather, Tracey and Chris, Karen and Allan, Sue and Brian, James and Paul for the music. Of course we had lots of help from Denise, John and Eleanor.
BOOK LAUNCH "OUR QUEENSLANDERS, HOMES AND GARDENS , THEIR SECOND CENTURY" and "QUEENSLANDER GARDENS. PLANTS FOR THEIR SECOND CENTURY" at 'Pattemore House' Maleny supported by Friends of Pattemore, Sunshine Coast Council. 67 attendees on a beautiful day. Very successful event. Books available by contacting us  85shambles@gmail.com
OPEN GARDEN 'ROYAL OPEN GARDEN' Queens Birthday Weekend 5th 6th October 2019. Plant stall, refreshments and for the first time toys/collectables/ vintage stall in "The Plough Inn". 600 attendees. Overall in 2019 over $10000 raised for the Western Queensland Drought Appeal.
MAPLETON WRITERS AND ILLUSTRATORS FESTIVAL. 26TH October at the Mapleton library. We had the opportunity to promote "OUR QUEENSLANDERS, HOMES AND GARDENS , THEIR SECOND CENTURY" and "QUEENSLANDER GARDENS. PLANTS FOR THEIR SECOND CENTURY"
BUS TOUR GROUP 16/1/2019 Cross Country Tours. 40 visitors on a fine day with morning tea provided. Chris Donlen Helping Kyleigh
BUS TOUR GROUP 23/2/2020  Peninsula friendship group 30 visitors Showery weather but dry for their visit. Lots of roses and perennials in flower after the rain. Books and DVDs purchased
BUS TOUR GROUP 25/2/2020  Redcliffe Coaches  40 visitors Showery weather, as on Sunday lots of flowering to see.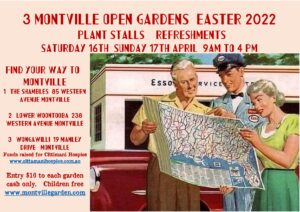 OPEN GARDEN 16/4/22 AND 17/4/2022 (EASTER) We are so grateful to have escaped flood/storm damage and our Easter Open gardens are going ahead, with lots of enthusiastic local support. Plant stalls and refreshments . Weather fine
Sat 16th 452 visitors and Sunday 17th April  240 visitors
"The Shambles' 85 Western Avenue Montville. Kyleigh and Michael Simpson have opened their garden since 2001 and in 2019 raised $10000 for the Queensland Drought Appeal
"Lower Woontooba" 238 western Avenue Montville. Louise and Jeff Tasker are opening their large country garden for the first time.
"Wongawilli" 19 Manley Drive Montville. Rowena Cavanagh has raised money for reconstruction in Fiji after cyclone Winstone in 2016. Rowena has also provided valuable assistance with Open Gardens at "The Shambles"
Plants of all sorts sold.  Refreshments "Rising Scone Café" at "The Shambles"     Funds raised for Cittamani Hospice www.cittamanihospice.com.au
We raised $10500 for the Cittamani Hospice. The event raised $19500 overall
17 Septembr 2022 Eleanor and Glenn wedding photos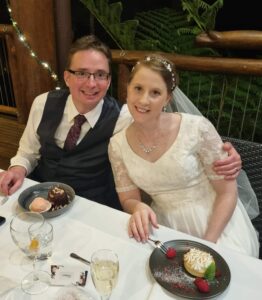 Like many others "The Shambles" is a private garden with a history of welcoming visitors as well as family and friends.