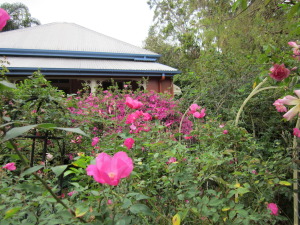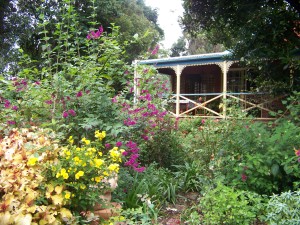 Thankyou for viewing our website. Please Scroll down or click on all the pages on the right          see also      http://montvillegarden.blogspot.com                          and         http://www.facebook.com/montvillegarden
PICTURES OF OUR GARDEN ON YOUTUBE AT:   https://youtu.be/MkT1vFZYP_o
Our Garden Featured on ABC TV 'Gardening Australia" 6/6/2015 at 6 30pm   see ONLINE     http://www.abc.net.au/gardening/stories/s4248133.htm
We welcome Garden Clubs and Visiting Coach Groups.   contact shambles@southernphone.com.au
COPIES OF OUR LATEST BOOK "A GARDEN FOREVER" are AVAILABLE    To obtain a copy of this privately published limited edition book please contact us at                                                                                                                          Email shambles@southernphone.com.au                      or FROM   Peterpal Library Supplies, 48-50 Commercial Drive, Shailer Park QLD 4128   (07) 3806 1155. http://www.peterpal.com.au/
           or from  Rosettas Bookshop, 30 Maple Street,  Maleny  54352134            https://www.facebook.com/pages/Rosetta-Books                              We have been selling the book for $60.00 cash (the cost of printing), cheque or direct debit with complimentary copies of 'Overlooked and over the Fence" and DVD a "Garden in the Rain" while stocks last. Postage $13.40 for 2 books and DVD Australia wide.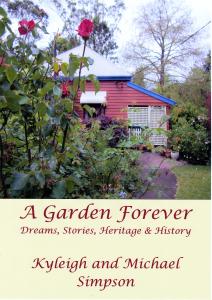 Copies of 'Overlooked and over the Fence"  with a  DVD    "A Garden in the Rain" can be purchased seperately for $25 + postage while stocks last. contact shambles@southernphone.com.au 
"The Shambles"  is a name we gave the garden about 23 years ago.
 A little over 118 years ago the land around us in Montville changed from  rainforest of special significance to the indigenous Gubbi Gubbi people during their "Bonyi Bonyi" festivals, to a source of timber and then cleared for dairying and agriculture, namely strawberries,  pineapples, citrus fruit and other orchard crops.
About 30 years ago things started to change again and land cleared for agriculture and orchards started to grow trees and shrubs again for private residential  gardens
For twenty five years we have built up an extensive plant collection around our century old farmhouse. We have a registered collection of "Heritage Roses" and perennial Salvias in a garden with thousands of plants in hundreds of genus from around the world.
For the last 16 years many visitors have trod our garden paths and enjoyed "Open Garden" visits, Book Launches and Bus trips.
We hope you enjoy reading this site and following our gardens story. 
see also http://montvillegarden.blogspot.com