OPEN GARDEN  (OPEN GARDENS AUSTRALIA)
THE CENTENARY OF ANZAC WEEKEND  Saturday 25th,                 Sunday 26th APRIL 2015     10.00a.m. to 4.30 p.m.
"The Shambles"   85 Western Ave Montville 4560
To benefit Legacy Australia, Admission $8, Children free
Also open on the ANZAC weekend are local  gardens            Montville Macadamery" 41 Mill Hill Rd. Montville   Open 10-4 30pm.   Admission $8, Children Free
"Williamson garden" 321 Western Avenue, Montville Open 10-4 30pm.   Admission $8, Children Free
COPIES OF our book  "A GARDEN FOREVER" STILL AVAILABLE                                        To those who attended, thank you for helping us launch  our new very limited edition book "A Garden Forever"  on the 24th January2015 .  To obtain a copy                                                                                                                          Email shambles@southernphone.com.au                                          or from  Rosettas Bookshop, 30 Maple Street,  Maleny  54352134                             Books on sale $60.00 cash, cheque or direct debit with complimentary copies of 'Overlooked and over the Fence" and DVD a "Garden in the Rain" while stocks last. Postage $12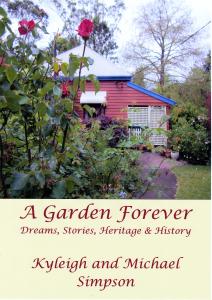 Copies of 'Overlooked and over the Fence"  with a  DVD    "A Garden in the Rain" can be purchased seperately for $25 + postage while stocks last. contact shambles@southernphone.com.au 
"The Shambles"  is a name we gave the garden about 20 years ago.
 A little over 100 years ago the land around us in Montville changed from  rainforest of special significance to the indigenous Gubbi Gubbi people during their "Bonyi Bonyi" festivals, to a source of timber and then cleared for dairying and agriculture, namely strawberries,  pineapples, citrus fruit and other orchard crops.
About 30 years ago things started to change again and land cleared for agriculture and orchards started to grow trees and shrubs again for private residential  gardens
For more than twenty years we have built up an extensive plant collection around our century old farmhouse. We have a registered collection of "Heritage Roses" and perennial Salvias in a garden with thousands of plants in hundreds of genus from around the world.
For the last 14 years many visitors have trod our garden paths and enjoyed "Open Garden" visits, Book Launches and Bus trips.
We hope you enjoys reading this site and following our gardens story. 
see also http://montvillegarden.blogspot.com